Inspired by Arise Worker Center Members, Cook County Board Unanimously Passes Ground-Breaking Anti-Wage Theft Legislation
On Tuesday, February 10th, the Cook County Board of Commissioners voted unanimously in favor of the Cook County Anti-Wage Theft Ordinance!
The Ordinance prohibits businesses that engage in wage theft from obtaining county contracts, business licenses and property tax incentives for a period of five years. Cook County becomes the largest county in the United States with such provisions.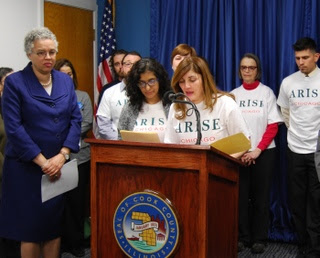 Angelina Landaverde (left) is an Arise Chicago member and leader of the Source Interlink workplace campaign that inspired the Ordinance. "When our employer closed our plant without providing us any notice and without paying us severance, it was a terrible thing. But I'm glad that something good could come out of it, and I'm proud to support this bill."
Arise member and former Source Interlink worker, Ana Castro (left)  said, "I know personally what it's like to have wages stolen. And I know what it's like for a whole workplace to deal with stolen wages. Too many employers cheat their workers. We need to know our rights and how to enforce them, and we need to be able to count on strong policies like this to protect all workers."
"For businesses and working people to thrive in Cook County, we need to be morally grounded in our business ethics. This ordinance paves the way to make Cook County the most ethical place in the country to do
Do you like this post?